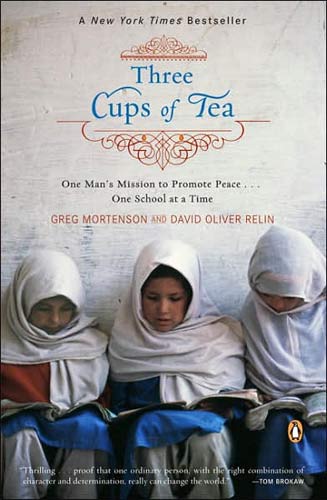 Wow, I'm not sure where to begin. What an eye-opening read.
This book is the story of "one man's mission to promote peace... one school at a time" amid the war torn and impoverished areas of Pakistan and Afghanistan.
Greg Mortenson opens the book as an adventurous mountaineer who failed to summit K2 in Pakistan's northern mountain range. He leaves the mountain defeated but with a new determination-- to build a school for a rural village which has never had a school before. But that is only the beginning.
Eventually Mortenson starts a non-profit organization,
Central Asia Institute
, through which he works to build dozens of schools for impoverished children in Pakistan and eventually Afghanistan. This book details his challenges and determination to bring education to children, especially girls, and other humanitarian projects. In doing so he is fighting the stream of terrorism that is running rampant in the area and into the world. He argues that it is ignorance and lack of alternatives that drive the youth of these areas to extremist ideals and that by providing unbiased education you can cultivate peace. Mortenson especially focuses on girls because it is they who stay and build a foundation of education within their own communities.
I am overwhelmed by the scope of his projects and the determination he had with such little resources. He is one man who is working to change the world and succeeding one child at a time. What an example to follow.
I would strongly recommend this book!
If you are interested in buying this book (through Amazon.com), do so through a link on their web page
www.threecupsoftea.com
and 7% of the proceeds go to benefit the Central Asia Institute.