Valentines Day is fast apporaching. I've moved up the button that goes to my mother-in-laws Valentines blog. Check it out and share the love.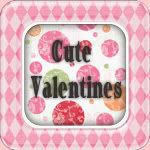 As a side note-- I am SORE!
I got Wii EA Active 2 for Christmas and now that we are home and all the holiday festivities are done I have started the 3 week program. (There is a 3 week and a 9 week program in addition to the various other workouts as well as the ability to create your own workouts). Anyway, I have worked out three days and rested 2 (you actually only workout 4 days a week) and I am feeling it everywhere. So far I have been happy with the program. I'll keep you posted the more I get into it but for know I just had to share that I hurt, the good kind of hurt.